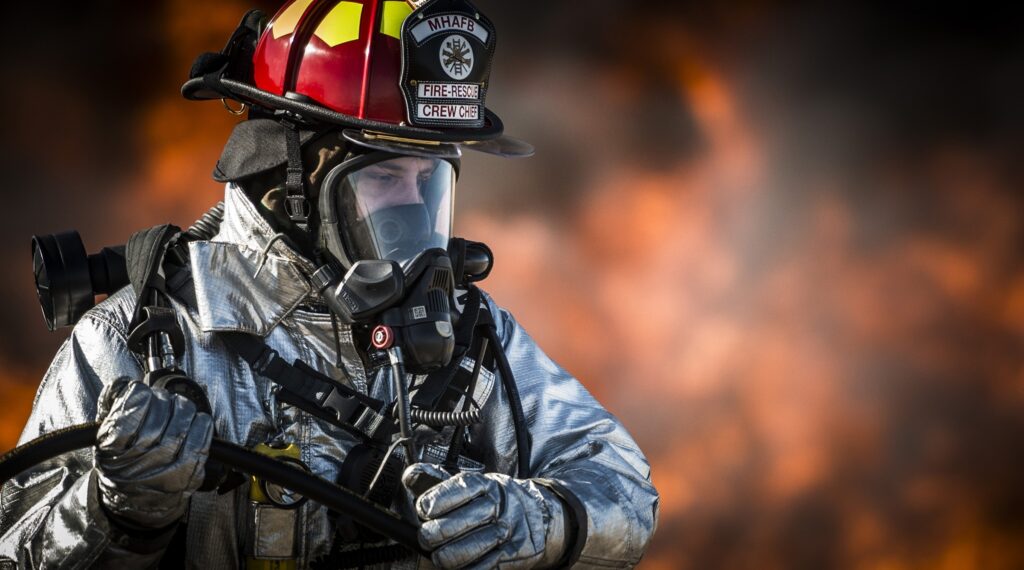 A firefighter's job is rarely easy: from risking their lives to save people or infrastructure and working to keep the public safe, firefighters also routinely engage with death, dying, and violence. This work is critical and culturally celebrated, and yet, it comes with a side that is often left undiscussed. Firefighters have significantly higher rates of post-traumatic stress, substance use disorder, and deaths by suicide than their civilian counterparts. Existing research, however, lacks information related to the underlying factors that increase the risk of developing these conditions. 
When Dr. Mark Weiss – a firefighter/paramedic and training officer  himself –  began his PhD research work, he sought to fill this critical gap in the literature. Specifically, Dr. Weiss sought to explore a possible relationship between self-injurious thoughts and behaviors (SITB), tenure length as a firefighter, and mental health outcomes. 
As part of this work, Dr. Weiss recruited two large fire departments, located in a major US metropolitan area, where the firefighters were also trained as Emergency Medical Technicians (EMTs) and/or paramedics. His sample included active frontline members of the department at all levels of seniority, from recruits through Fire Chiefs. After securing a sample population, Dr. Weiss sought out a tool that would be highly accurate and a good fit to his participants given strong work cultures that tended to disincentivize sharing or help-seeking for mental health challenges. This led Dr. Weiss to Adaptive Testing Technologies, the C-SSRS Suicide Screen and the CAT-MH® Suicide Scale, known as the CAT-SS.
Dr. Weiss chose the CAT-MH® suite of measures for the same reasons that many mental health professionals and researchers do:
Participants would be able to self-administer the CAT-MH

®

in the privacy of their own homes

The CAT-MH

®

minimizes participant burden with an average completion time of just under 2 minutes per measure and reduces response bias with its large item bank

The assessments are able to precisely quantify all levels of severity, including sub-clinical levels that are difficult to assess with traditional measures.
Using the CAT-MH®, Dr. Weiss was able to collect data from 106 of the original 149 participants over the course of two months to complete the entire study.  Each participant completed the modules a single time over the course of the study based on the ecological momentary assessment (EMA) to provide a current snapshot of their mental state  and feelings of self-injurious thoughts and behaviors at the point in time of the study. 
From this data, Dr. Weiss found:
34 of the 106, approximately 32%, participants had either an intermediate or high risk of suicidality as measured by the CAT-SS. 

The 34 participants at risk were spread across all tenure levels, but there was a cluster of 20 participants who met this criteria among firefighters with tenure of  15 years or greater.

Six of the thirty-four participants having 0-4 years and 15+ years tenure reported having suicidal thoughts, intent, plans, and/or behavior screened via the C-SSRS
The findings of this study validate the limited existing research that firefighters are at an increased risk of suicidality by tenure. This study suggests there is a relationship between length of tenure and suicidality. While more studies are necessary, this research data suggest that longer tenure is associated with higher risks as well as an increased risk of suicidality among the newest recruits.
These findings, while important, were not Dr. Weiss's only contribution to his field. Through his work, Dr. Weiss was able to provide quantitative proof of suicide risk to the Fire Chiefs whose departments participated in the study. His hope is that this evidence will be the first step in moving towards proactive approaches to preventing suicide among firefighters.
Dr. Weiss's goal is a simple one. He hopes to ensure that the fire service will begin large-scale, firefighter specific studies of  self-injurious thoughts and behavior that can add to the literature and replicate and confirm his findings. Dr. Weiss would like to see these studies completed with the CAT-MH® platform due to the precision of the identification and prediction of firefighter self-injurious thoughts and behaviors by tenure through multiple assessments over time.
Over the longer term, Dr. Weiss is seeking to create awareness of these risks among the leadership of the fire service including such organizations as the International Association of Fire Chiefs (IAFC), the Firefighter Union, and the International Association of Firefighters (IAFF). In collaboration with these organizations, he hopes this work will lead to policy changes in entry requirements for recruiting programs as well as integration of mental health screenings in each firefighter's annual health and physical screening to protect the first responders that we all rely upon.
Dr. Weiss will continue to present his work as a presenter at this year's conference of the World Association for Disaster and Emergency Medicine. 
Dr. Weiss, our team at Adaptive Testing Technologies is so appreciative of the important work you've done and continue to do.